The weather is starting to warm up and it has us looking forward to getting out and exploring more of Cedar Rapids in the coming months. Sometimes it's nice to explore a city without breaking the bank. Here are a few things you can do in and around Cedar Rapids that don't cost a thing.
1. PAINT THE TOWN
Literally! Check out Cedar Rapids' growing mural scene. Explore Downtown, Kingston Village and The District: Czech Village & New Bohemia to discover the largest concentration of murals on your own. Or follow the City of Cedar Rapids' convenient self-guided tour to enjoy the newest murals brightening Cedar Rapids.
2. FREEDOM FESTIVAL
With the mission of providing safe, affordable and fun events for the whole family, the Freedom Festival kicks on June 14th and continues through the 4th of July. With 3 weeks of events, the community is alive with free (or free with a Freedom Festival button) events. We recommend Dock Dogs, the Balloon Glow and the pancake breakfast... and everything else! The festival wraps up with the state's largest fireworks extravaganza on July 4th.
3. INDIAN CREEK NATURE CENTER
Explore the trails at Indian Creek Nature Center. You can wander around the prairie, through wetlands, or along a woodland path. With over seven miles of trails built to accessibility standards, the Nature Center offers a great opportunity to get outdoors and explore. The grounds and trails are available to explore at no charge. Trails are open daily from sunrise to 10 p.m. Visit their website to see the latest hours for the Nature Center and Creekside Shop.
4. DOWNTOWN FARMERS MARKETS
The Cedar Rapids Downtown Farmers Market is a crowd favorite each summer. Wander around the streets of downtown on a Saturday morning and shop for not only fresh fruits and vegetables from local growers, but also handcrafted jewelry, apparel, and other goods from some 200 vendors. Plus, there's lots of good food to eat while you shop and entertainment for attendees of all ages.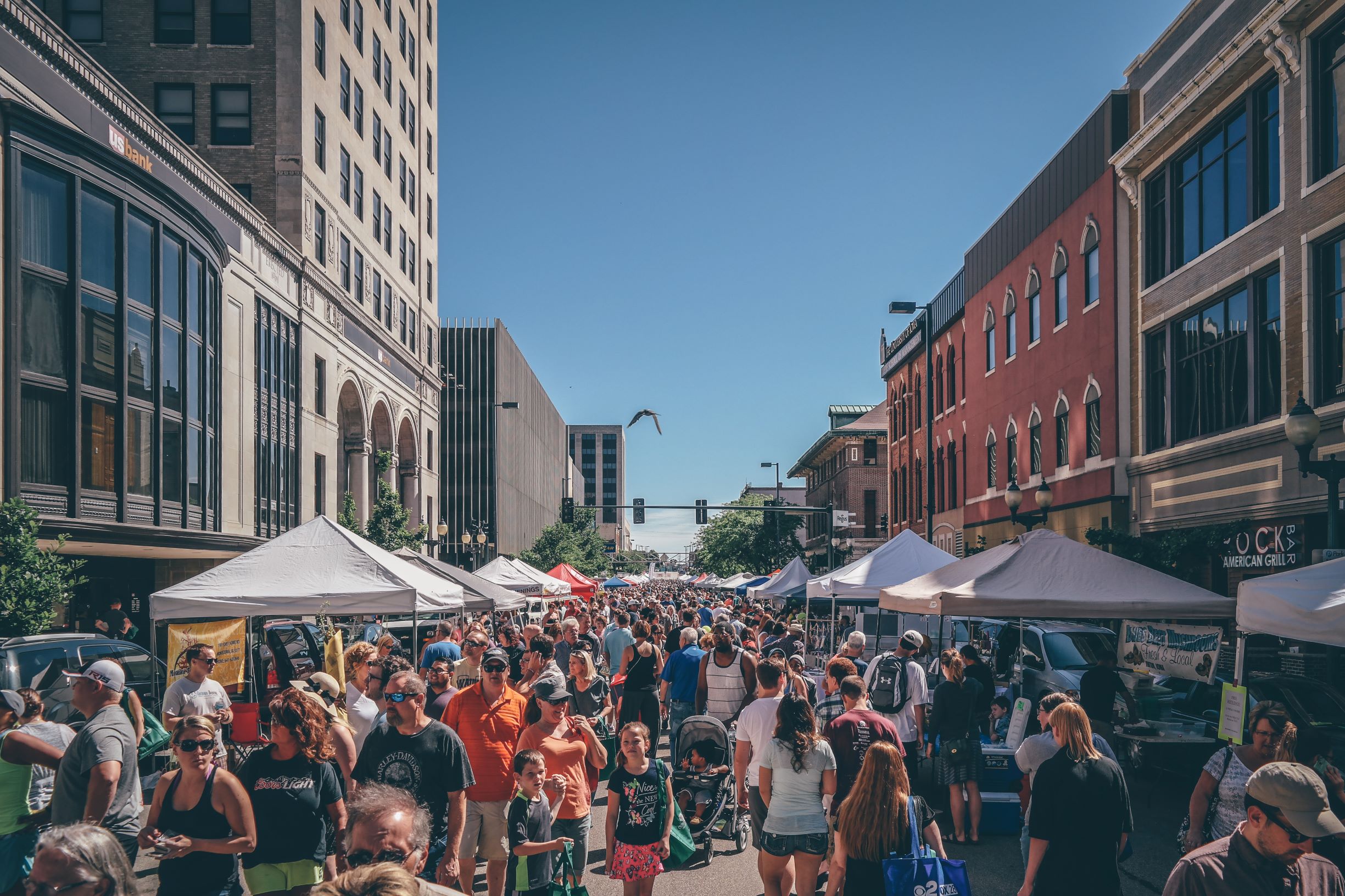 5. OLD MACDONALD'S FARM
Old MacDonald's Farm at Bever Park has long been (over 100 years, to be specific) a favorite spot for families in Cedar Rapids to explore on the city's southeast side. This petting zoo features a variety of animals, everything from cows and chickens to rabbits, goats and ducks. Plus, while you are at Bever Park, check out the new playground equipment, splash pad and pool.
6. THE DISTRICT: CZECH VILLAGE & NEW BOHEMIA
Visit Czech Village New Bohemia Main Street District to experience both the history and the revitalization of Cedar Rapids. A lively mix of art, culture, cuisine, and shopping, this urban neighborhood has endless opportunities and things to see.
7. NEW BO CITY MARKET
This dynamic public space where local entrepreneurs create an environment of fresh, unique food, products and experiences. May through September, come out for free exercise events including walking, biking, running, yoga and cardio. Friday nights, the market has the whole New Bohemian neighborhood rocking on the outdoor stage where live concerts are presented all summer long.
8. EXPERIENCE GRANT WOOD
Cedar Rapids native son and painter of American Gothic, Grant Wood, created the world-famous work right here. Experience Grant Wood's Studio, the largest collection of his work at the Cedar Rapids Museum of Art, and Wood's largest piece of stained-glass at Veterans Memorial Building.
9. CEDAR RAPIDS MUSEUM OF ART
The third Thursday of every month is FREE from 5-8pm at CRMA, the home of the largest collection of Grant Wood's work in the world. You can view works by Cedar Rapids' famed resident along with a wide variety of other works from the Museum's collection and traveling exhibitions
10. MOUNT TRASHMORE
Visit one of the most notable spots in Cedar Rapids, and take in the city's best view! Towering over Czech Village and the New Bohemian neighborhoods, the former landfill has been reimagined and transformed into a beautiful spot for hiking, biking or just taking in great view. If you are up for the climb, check in at the base of the hill and then trek to the top using one of the 3 existing paths.
11. GEOCACHING CHALLENGE - by Linn County Parks
Take the Linn County Parks Geocaching Challenge and explore 25 Linn County parks, preserves and historic sites. Whether you are a seasoned geocaching expert or just learning, this is the perfect way to enjoy the outdoors.
12. VETERANS MEMORIAL BUILDING
Located in the heart of downtown on Mays Island, Veterans Memorial Building is FREE and open to the public. Serving as a memorial to all veterans, you discover multiple military exhibits and the only stained-glass window commissioned by Grant Wood. Measuring 20 by 24 feet, the window is a moving tribute to those who served their country.
13. NATIONAL CZECH & SLOVAK MUSEUM & LIBRARY
The First Saturday of each month, students of all ages (preschool through college) are welcomed admission-FREE to experience the engaging permanent and traveling exhibits during normal business hours.
14. GRAND LODGE OF IOWA
The Grand Lodge of Iowa (also known as the Iowa Masonic Library & Museum) is reputed to be the largest Masonic library in the world with more than 100,000 volumes. The Library's museum also contains three exhibits featuring an original Grant Wood painting, a Civil War flag from an Iowa regiment, Asian armor, Native American weapons as well as pottery and decorative arts from around the world. Hours by appointment only, Admission is free.
15. WICKIUP HILL
Enjoy the Wickiup Hill Learning Center's Wandering Woods—a children's outdoor natural playscape open year round from sunrise to sunset—where children are encouraged to build, create, climb, balance, move and get messy with natural materials. Go inside to explore Oliver & Ava's River Raft Adventure Exhibit, designed around a story of a school-aged boy and girl who follow a magical dragonfly on a learning adventure related to Native American history, nature and watersheds.