1. NewBo City Market
At NewBo City Market—a dynamic public space where local entrepreneurs create an environment of fresh, wonderful food, products and experiences— you'll find live entertainment throughout the year. For example, on Friday evenings you can enjoy Rock the Block live music events. May through September come out for free exercise including walking, biking, running, yoga and cardio. Open Thursday and Friday from 10 a.m.–8 p.m., Saturday 10 a.m.–6 p.m., and Sunday 10 a.m.–4 p.m.
2. Wickiup Hill Learning Center
Enjoy the Wickiup Hill Learning Center's Wandering Woods—a new children's outdoor natural playscape open year round from sunrise to sunset. Children are encouraged to build, create, climb, balance, move and get messy with natural materials. Go inside to explore Oliver & Ava's River Raft Adventure Exhibit, designed around a story of a school-aged boy and girl who follow a magical dragonfly on a learning adventure related to Native American history, nature and watersheds.
3. Linn County Parks Geocaching Challenge
Take the Linn County Parks Geocaching Challenge and explore 25 Linn County parks, preserves and historic sites. Whether you are a seasoned geocaching expert or just learning, this is the perfect way to enjoy the outdoors.
4. Indian Creek Nature Center
Indian Creek Nature Center's grounds and trails are available to explore at no charge. Trails are open daily from sunrise to 10 p.m. Visit their website to see the latest hours for the Nature Center and Creekside Shop.
5. Grant Wood Studio
Visit the Grant Wood Studio, a quirky art studio where the famous artist painted the iconic American Gothic. Open April through December on Saturdays and Sundays 12–4 p.m.
6. Cedar Rapids Museum of Art
Throughout the year on the third Thursday of every month from 5-8 p.m. admission is free at the Cedar Rapids Museum of Art. The Museum's collection is particularly strong in American art, especially from the first half of the 20th century. There are a number of artists the Museum holds in great depth – including the world's largest collection of works of art by Grant Wood.
7. Veterans Memorial Building
In the Veterans Memorial Building you can see the only commissioned stained glass window by artist Grant Wood, which is dedicated to veterans. View it from the inside during week days Monday through Friday 8:30 a.m–4:30 p.m. or see it back lit during the evening from the outside.
8. National Czech & Slovak Museum & Library
Students of all ages (preschool through college) are invited to visit the National Czech & Slovak Museum & Library's engaging permanent and traveling exhibits for free on the first Saturday of each month during regular museum hours.
9. Grand Lodge of Iowa
The Grand Lodge of Iowa (also known as the Iowa Masonic Library and Museum) is reputed to be the largest Masonic library in the world with more than 100,000 volumes. The Library's museum also contains three exhibits featuring an original Grant Wood painting, a Civil War flag from an Iowa regiment, Asian armor, Native American weapons, as well as pottery and decorative arts from around the world. Open Monday-Friday 8:00a.m. - 5:00 p.m. by appointment.
10. Czech Village New Bohemia Main Street District
Visit Czech Village New Bohemia Main Street District to experience both the history and the revitalization of Cedar Rapids. A lively mix of art, culture, cuisine, and shopping, this urban neighborhood has endless opportunities and things to see.
11. Cedar Rapids Area Farmers Market
This summer, explore all of the Farmers Markets throughout the Cedar Rapids area. From the Cedar Rapids Downtown Farmers Market, to local markets in Hiawatha, Marion and more, shop or stroll through the vendors for local goods and fun.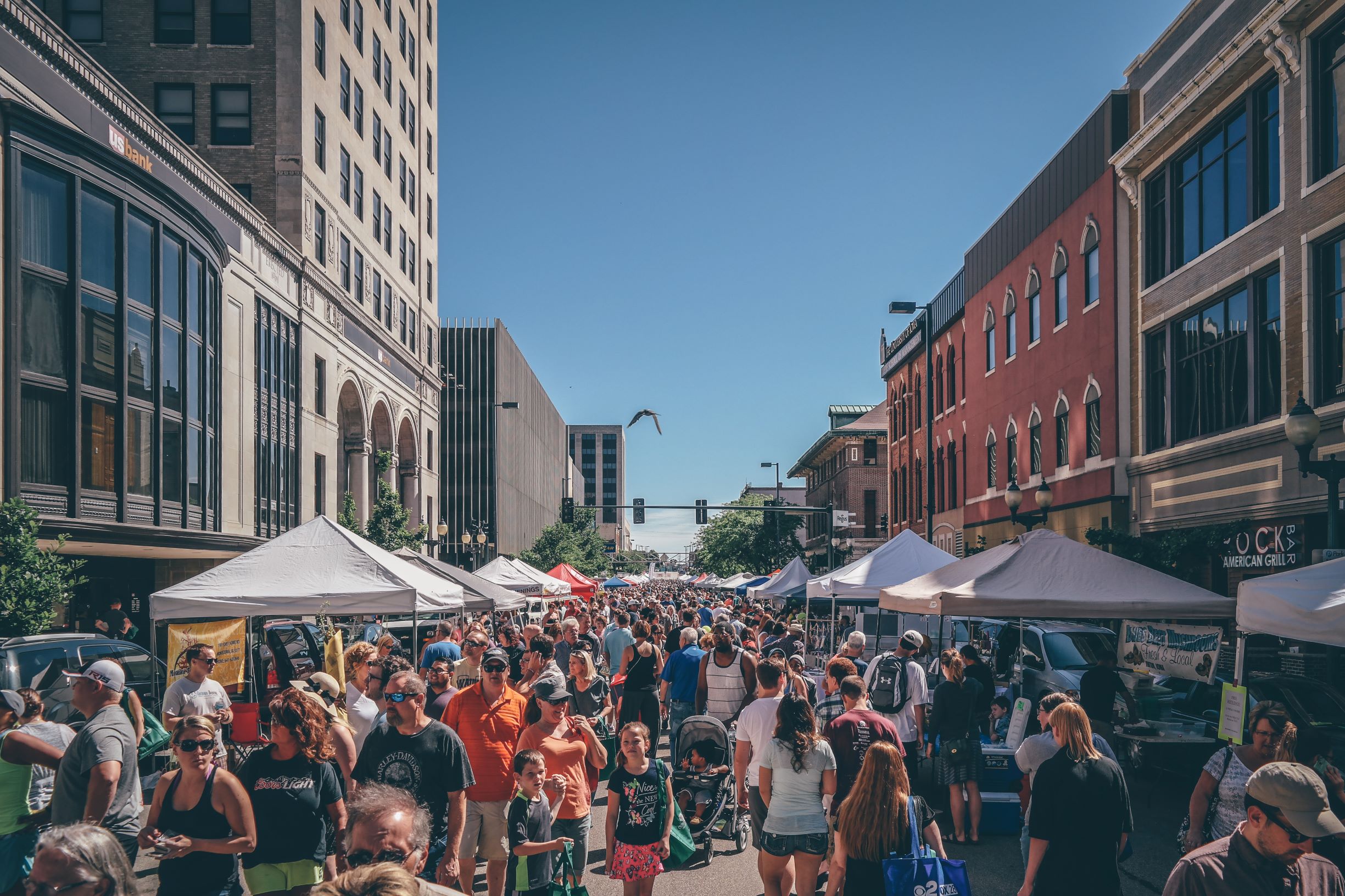 12. Discover Area Trails
Whether you like hiking or traveling the trails on two wheels, CR has so many routes to discover for free. Check out our guides to hiking and biking in Cedar Rapids to get started, and experience nature and amazing views at places like Mt. Trashmore!
13. Old McDonald's Farm
Old McDonald's free petting farm is open to the public and features farm animals like goats, ducks, cattle, pigs and more. This city landmark is over 100 years old and is enjoyed by people of all ages. Open during the summer from 10:00a.m.- 6:00p.m. in Bever Park.
14. Local Live Music
From heavy metal to classical, country to pop and all the soloists, duos and groups between, the live music scene is thriving all around Cedar Rapids! Most weekends you'll find local musicians at an array of venues around the city. Check out some of the venues around Cedar Rapids that are offering live music throughout the city.
15. Riverside Skate Park
It's time to break out your skateboard and hit the halfpipe! Riverside Skate Park provides a safe environment for extreme sports such as in-line skating, skateboarding, and biking. With nine steel obstacles and ramps including a half-pipe, railings and more, the fun never ends!