Enjoy the fresh air and explore Cedar Rapids without worrying about the parking! With the Cedar Rapids Micromobility Program, you can rent (via the easy to use VEO app) an electric-assist bike, electric-assist scooters or electric assist sit-down scooter to discover the city. You will also find 90 designated green parking stations throughout Downtown, New Bohemia, Kingston Village, Czech Village and the MedQuarter. Click here for a map of stations and bike around downtown Cedar Rapids without breaking a sweat!
To use one of the bikes or scooters, download the free VeoRide app. This app makes the process simple -- you find a bike using the map inside the app, you scan the QR code on your desired bike and unlock it via the app. Now you're free to ride to your liking. Finally, when you manually lock the bike, the app will record how long you've used the bike and charge you appropriately.
Fares:
Standard Bikes: $1 to unlock, 5 cents per minute of use
E-bikes: $1 to unlock, 15 cents per minute of use
Stand-up scooters: $1 to unlock, 30 cents per minute of use
Seated scooters: $1 to unlock, 35 cents per minute of use
No Bikes/Scooters on Sidewalks:
In the downtown and surrounding districts: bikes, scooters/sit-down scooters, and skateboards are not permitted on sidewalks. Please walk your wheels in these areas for the safety of pedestrians or enjoy riding in a bike lane (bikes may also use the full travel lane).
Park Responsibly:
Park in one of the conveniently-located green bike racks, shown on the app. To encourage responsible parking, users will be required to take a picture of the vehicle before the ride can end, to ensure proper parking has occurred. Scooters may be parked in any green bike rack or in the designated parking area for scooters, painted on the sidewalk near bike racks. Parking in bike racks or in designated parking areas ensures sidewalks and building entrances remain open and accessible for pedestrians, while keeping the system neat and organized.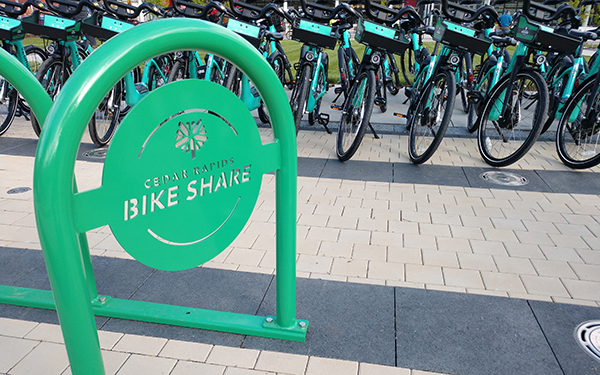 Whatever reason you have for being downtown, these bikes can be beneficial to you -- you can bike from a parking garage, you can make multiple stops without reparking, or you can ride for fun. Go ahead and try it out!
For more information including a map of bike stations and safety tips, click here.