As of September 2019, Indian Creek Nature Center's Amazing Space is officially Living Building Challenge Petal Certified — the only in Iowa, and one of just 31 in the world to achieve this rigorous certification.
Living Buildings push the envelope for sustainable design. They create synergy between nature and the built environment, between individuals and the community, and between current design and future energy use.

Want to learn more? Experience it for yourself with a tour of some of Amazing Space's sustainable features:
Place: Explore our 290-acre property, featuring more than five miles of trails through native prairie, woodlands and wetlands.
Energy: Check out our solar panels, which produce more than 100 percent of the energy Amazing Space needs each year.
Water: Permeable pavers, wetlands, rain gardens and bioswales capture rainwater to prevent downstream flooding. Water is filtered through hundreds of native prairie plants into our septic system and supplied to the building.
Health & Happiness: Biophilic design is incorporated throughout Amazing Space, including a living plant wall, live edge baseboard harvested from trees that grew onsite and many windows that flood our building with natural light and open so that you can enjoy the rich smells and sounds of nature. Look for the green light; when it lights up, that means it is OK to open the window! Please close them behind you.
Equity: Amazing Space is designed to be accessible to everyone. The building is ADA compliant and free and open to the public. Almost everything in the building was sourced within 500 miles and built by local companies, union labor and volunteers.
Beauty & Spirit: Enjoy handmade wood art made by local craftsman John Schwartzkopf. Look up to find beautiful vaulted ceilings with repeating wooden beams. Enjoy a peaceful moment in our bird room and look for the webbed glass (Ornilux) that protects from bird strikes. Watch water dance down the rain chains on a rainy day. Visit at night to experience a night sky free of light pollution.
Inspiration & Education: Look for signs and interactive tools throughout the property that educate and inspire, such as the hands-on solar display that demonstrates how photovoltaics work.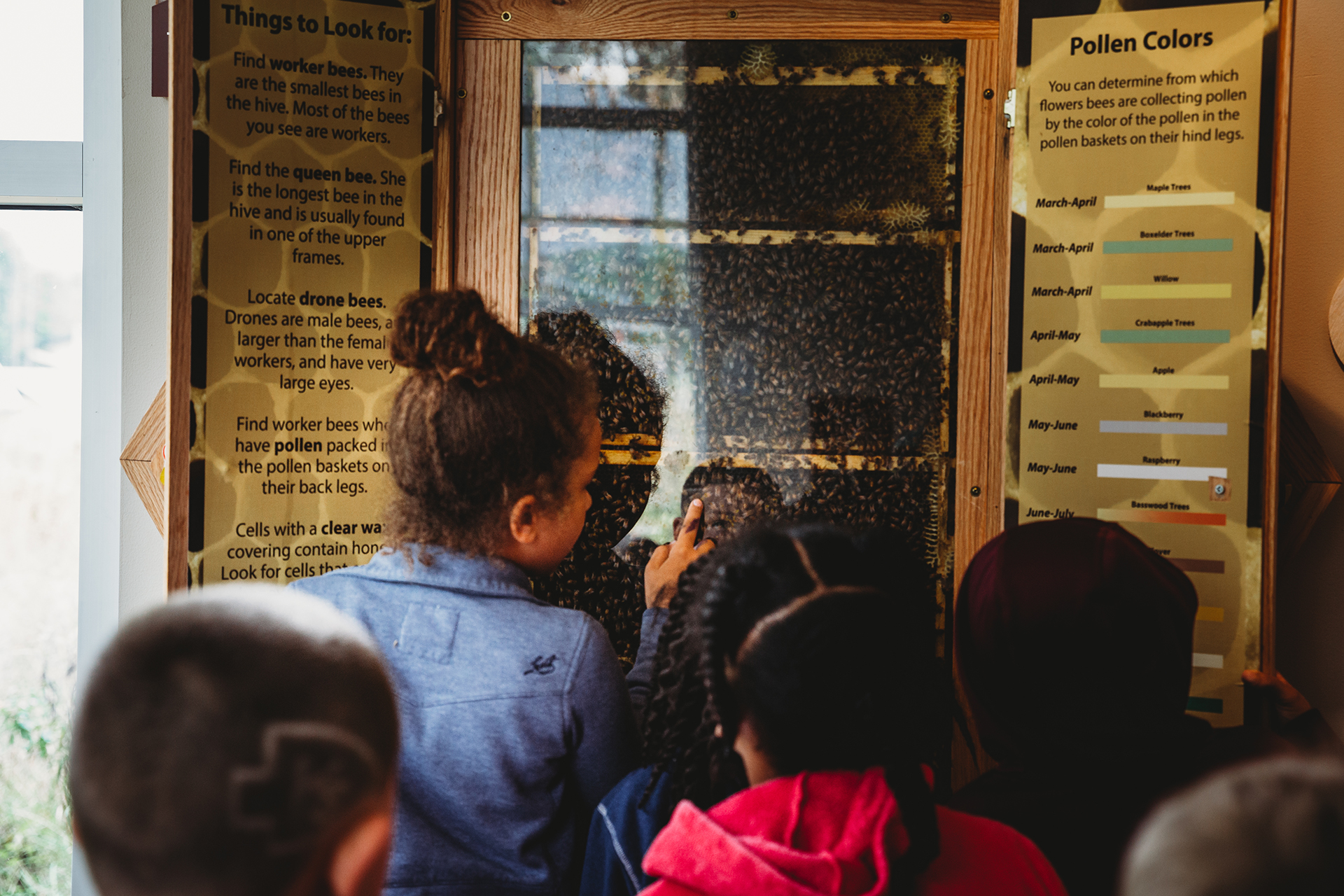 Indian Creek Nature Center: inspiring change, visioning for the future & creating #championsofnature.
5300 Otis Rd SE
Cedar Rapids, IA 52403
319-362-0664
www.indiancreeknaturecenter.org