Looking to tap into your creative side? Here are the top five ways to express yourself during your next trip to Cedar Rapids!
Galivant through Galleries
Cedar Rapids is home to a number of art galleries that are sure to delight and surprise you with what you'll find inside. Local and regional artists are prominently highlighted. And you'll be amazed at the different art forms you'll come across, from sculpture and drawings to paintings, photographs and even eclectic jewelry. Make a point to check out Gilded Pear Gallery, the Art Cellar, DKW Art Gallery, and ARA Gallery. At CSPS, and the Cherry Building you can find an ever-changing array of exhibits. And of course, the Cedar Rapids Museum of Art can offer a glimpse into the work of other acclaimed artists (including C.R.-native, Grant Wood) in a variety of mediums.
Create Like a Kid
There are several spots around town that are geared towards letting kids have fun creating. Whether you bring the little ones, or you are just young at heart and want to get in on the fun, these spots can offer fabulous activities for creative hands. Potter's Obsession is a pick and paint your own pottery studio. Pinspiration at Lindale Mall is a craft studio that hosts kids' birthday parties and other gatherings and can accommodate making a variety of projects. There's also a splatter paint room, where you go in neat and tidy and come out covered in paint (don't worry…protective covering is provided.) The Eastern Iowa ARTS Academy is another great spot to sign kids up for a whole variety of artistic endeavors, from playing in a rock band to creative writing club and learning ancient Chinese art forms.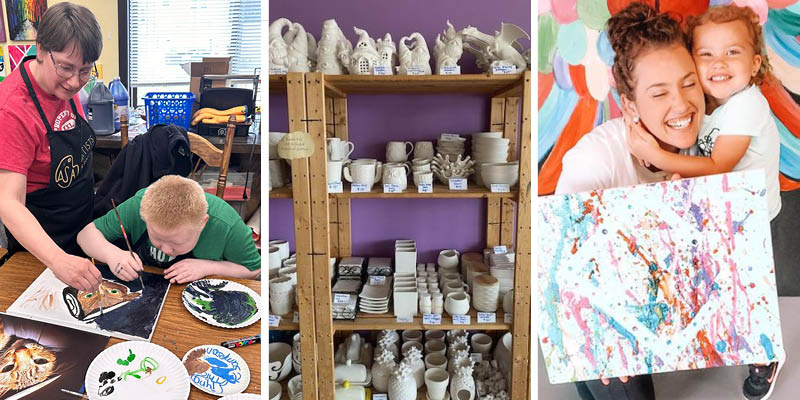 Make the Mural Rounds
More and more murals are popping up all over Cedar Rapids and it's a colorful delight. Turns out there's a handy self-guided tour guide online that you can pull up in the palm of your hand as you stroll about town taking in the mural sites. Snap a picture at each and share your favorites with friends. Murals are a creative way to make a place unique and CR is putting itself on the mural map.
Jump to the Head of the Class
Lots of businesses and organizations around town offer the opportunity to tap into your creativity, even just for a day. Board and Brush offers guided painting classes. Prairiewoods offers rock painting classes. Inspired to Sew offers quilting classes. At the Iowa Ceramics Center you can take lessons in pinch pots, using a pottery wheel, and even creating projects with colored glass.
Get Festive!
The Cedar Rapids area is part of the Creative Corridor and a big part of making that true is a whole host of art festivals that happen during the year. The Marion Arts Festival draws in dozens of artists and artisans selling their distinctive creations during the one-day event. While there, take the opportunity to do some pottery wheel work yourself. Chalk the Walk is the highlight of a series of festivals held in nearby Mount Vernon. Each spring artists young and old gather to create masterpieces in chalk along Main Street in this fun and funky small town. Wander along and admire their work, or grab a stick of chalk and take part in the large community collaboration piece. Other events like the Iowa Pop Art Festival (that brings dozens of artists to the NewBo neighborhood) and the Cedar Rapids Independent Film Festival (highlighting films by regional creatives), can make your trip a work of art!
Have other ideas? Get creative and then share them with us!