Checkout this year's line-up of can't-miss festivals in and around the Cedar Rapids area. We'll see you there!
APRIL 2023
April 14-16th
2023 Cedar Rapids Independent Film Festival, Collins Road Theatre
Open to the general public, this Independent Film Festival encourages Iowa independent filmmakers to improve their craft, showcase Iowa-connected films and present a unique cultural event to the community.
April 15th
Booze-A-Palooza, DoubleTree Convention Complex
This 3-hour festival includes everything from beer, seltzer, cider, wine and canned cocktails. Each alcohol element will make you feel as though you are entering a different venue. "The Beer Garden" will feature over 20 different beers, the "Wine Cellar" will be pouring up 10-12 different styles of wine from different regions, "Cantopia" highlighting Vodka-, Tequila-, Gin- and Whiskey-based canned products and exclusively for VIP ticket-holders, the "Champagne Courtyard" will serve top Champagnes with passed hors-d'œuvres.
April 22nd
2023 EcoFest, NewBo City Market
Cedar Rapids' premier Earth Day celebration, this family-friendly festival includes interactive educational activities, eco-products, eco-practice demonstrations in how to reduce our consumption of resources, fun ways to reduce and reuse household items, local foods, arts and free live music! EcoFest helps us connect our personal choices to individual, community and planetary sustainability.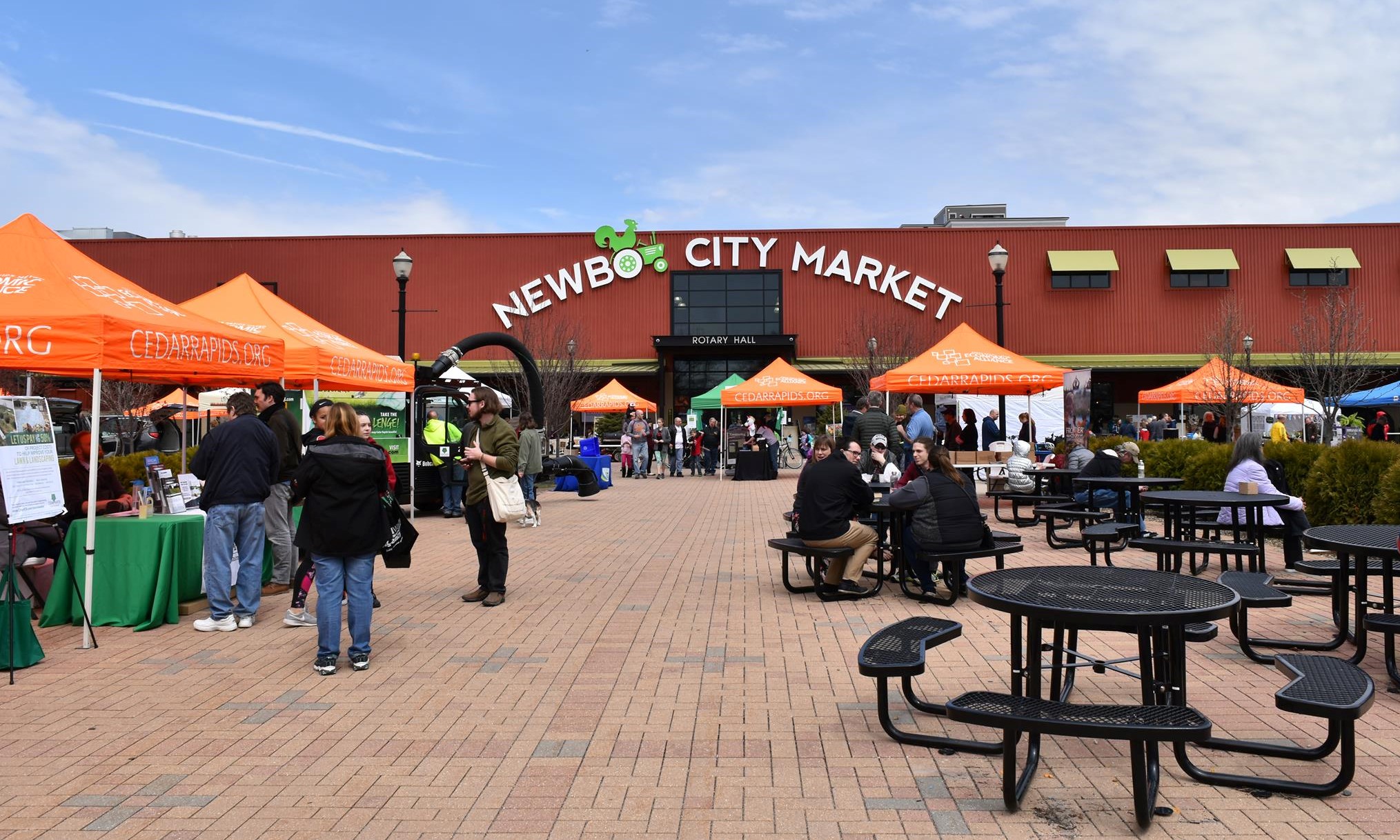 April 29th
April Drum Circle & Artisan Festival, Ellis Golf Course
Cedar Rapids loves its hand drums, shakers, and tambourines... Join Cedar Valley Drum at the new indoor Ellis Golf & Event Center for the first Cedar Valley Drum Circle & Artisan Fest...Cedar Rapids Bohemian style!
MAY 2023
May 6th
2023 Iowa Pop Art Festival, NewBo City Market & CSPS Hall
Visit NewBo City Market and CSPS Hall for a pop art festival showcasing dozens of booths with painting, drawing, printmaking, photography, collage, textiles, jewelry, ceramics, vintage clothing, sneakers, streetwear, live music, and an exhibition of wide-ranging large scale and conceptual work.
May 6-7th
Chalk the Walk, Mt. Vernon Downtown
Chalk the Walk features work from hundreds of people of all ages and abilities using over half a ton of chalk with a downtown street as their canvas. Cash prizes will be awarded and outdoor food vendors and musicians will be on hand throughout both days of the event.

May 6-7th
Maifest, Amana Colonies
May means Maifest in the Amana Colonies and you'll find the villages are ready for the summer with flowers and Maipoles. It's the German tradition of celebrating spring and we carry that tradition on in Amana today. The Weekend includes a parade, food trucks, entertainment, wine & chocolate walk and Maipole dancers.
May 13th
2023 Cedar Rapids Food Truck Festival, Benz Beverage Depot
It's back! For the first post-pandemic Food Truck Festival at Benz Beverage Depot. The event benefits Horizons Meals on Wheels and will feature a Toppling Goliath Beer Tasting and a number of local food trucks serving up delicious Iowa faire.
May 19-21st
Houby Days, The District: Czech Village & New Bohemia
Celebrate Czech and Slovak traditions and explore everything Czech Village has to offer. This annual festival sports live music and entertainment, food and craft vendors, classes, costume walk and of course kolaches!
May 19-June 4th
2023 Baby Animal Days, Bloomsbury Farm
Visit Bloomsbury Farm for Baby Animal Days and snap photos, visit the sweetest animals, enjoy our attractions & so much more!
May 20th
Spring Fling Festival, Olympic South Side Theater
Get ready for a festival filled with Live Performances, Art, Food, Vendors, Games, Prizes, Contests and More!

May 20th
Marion Community Kite Festival, Lowe Park
The Marion Parks and Recreation Department is excited to host Great American Kites at Lowe Park from 10 a.m.-4 p.m. for the third year in a row. Great American Kites specializes in producing the most astonishing and colorful outdoor giant kite displays. Guests should bring lawn chairs or blankets for seating. Outside food and drink are permitted.
May 20th
Marion Arts Festival, Uptown Marion
Consistently named among the top tier of juried art events nationwide, the Marion Arts Festival has been around for more than 30 years. Explore this free event featuring 50+ artists, drawing more than 10,000 attendees and explore the amazing community and delicious food of Uptown Marion.
May 27-29th
2023 Iowa Renaissance Festival, Middle Amana
Experience live entertainment featuring comedy, swordplay, music, magic, and even horseback jousting. Explore a marketplace full of unique merchandise from around the land. Enjoy tasty treats and drinks in the royal food court (including adult libations like honey mead).